Ameris Bank Amphitheatre at Encore Park Seating Chart
There's a wide range of seating options at Verizon Wireless Amphitheatre at Encore Park, with opportunities to get up close and personal to your favourite artists in the Pit Section, to relax in sheltered, seated comfort in the Orchestra and Reserved 100 Sections, to enjoy the show in luxury in a Box Seat, or to dance like crazy in the great outdoors with a General Admission Lawn Seat!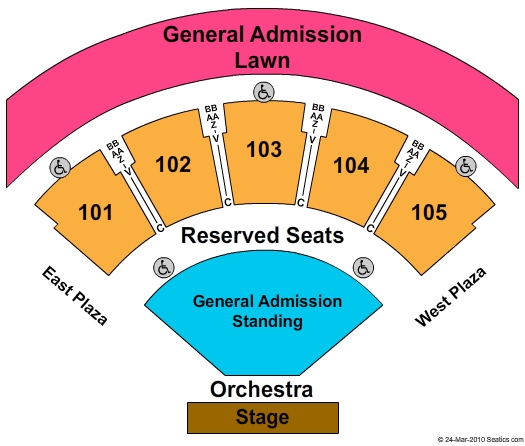 Accessible seating is available for guests with disabilities and mobility issues and the venue is wheelchair accessible.
Three sections comprise the seating arrangement at Ameris Bank Amphitheatre – Encore Park.
Reserved Seating
This area's covered seats are arranged thoughtfully for the best sightlines, combining comfort and great views. While enjoying unobstructed views, many here appreciate the shelter's comfort, especially during unpredictably bad weather. The prime seats in this area are unmatched for those eager to see get up close to the performance and guarantee great position.
Lawn Area
This large area sprawls in front of the stage and has a picnic-like atmosphere. It enables participants to relax under the open sky since there is no overhead cover. Although it's a popular destination for those seeking a laid-back atmosphere, it's advisable to be prepared with hats or sunshades for events in the sun. This area is a favorite because it is affordable and has a pleasant ambiance.
Lawn tickets are general admission. So ensure you arrive early to pick your preffered spot on the lawn.
VIP Boxes
The VIP section guarantees more than spectacular views for concertgoers looking for a high-end experience. People who purchase tickets for this enclave can access a private lounge with a dedicated bar. It's not just about the view; it's also about the atmosphere. The lounge offers a carefully curated selection of foods and drinks and is furnished with luxurious couches. The VIP area ensures spectators don't miss a beat while enjoying opulent luxuries because it is near the stage.
Seating Capacity
The venue capacity is 12,000 with 7,000 seats under the roof and a lawn area that can accommodate 5,000 guests, so each concert-goer is guaranteed excellent site-lines and amazing sound in this intimate setting! Please bear in mind that although the Pit, Orchestra and Reserved 100 Sections are under a roof, all seating is subject to weather and shows happen come rain or shine, so prepare accordingly.
Seating Tips
Your preferred seat is as individual as your musical or theatrical preferences. Here are a few things to think about when choosing:
The covered reserved area may be preferred due to an afternoon summer concert or an erratic rain prediction.
Even if the experience is priceless, money is a significant factor. The cost of each area varies, with the VIP area often being the most expensive, followed by reserved and then the lawn.
The openness of the grass might be more conducive for larger groups. Smaller groups or couples may prefer the exclusivity of VIP or the intimacy of reserved seating.
Always check the Ameris Bank Amphitheatre seating map for the specific event before booking your tickets.