Ameris Bank Amphitheatre at Encore Park
Rising country star Thomas Rhett has extended his debut headlining stint, the Home Team Tour, and is coming to Verizon Wireless Amphitheatre at Encore Park on Saturday 30th September 2017! Rhett will be joined by Nashville 5-piece Old Dominion, and he's looking forward to being the main event:
"I kinda feel like I've been learning for the last few years especially being on tour with Jason Aldean this year and FGL last year," said the country star, who has collected a string of hits the past several years. "I've learned at least the basics of what it means to be the headliner. But when you get down to it, you're the one that has to bring your heat and your A Game every night."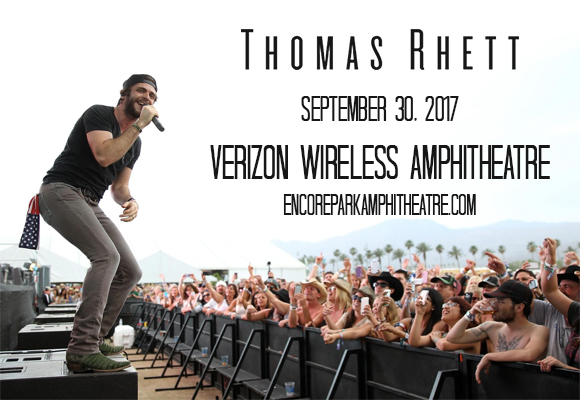 American country music singer Thomas Rhett, (son of country music legend Rhett Akins), began his music career in 2010 after co-writing the Jason Aldean song "I Ain't Ready to Quit," which featured on Aldean's album My Kinda Party. Big Machine Records' Valory Music Group division signed Rhett in 2011 and his debut album, It Goes Like This, was released in 2013. Rhett released his follow-up, Tangled Up, in 2015 and has since continued to write for other country artists, such as Jason Aldean, Lee Brice, and Florida Georgia Line. He has released ten singles that have charted on the Hot Country Songs and Country Airplay charts, with six reaching the No. 1 position on the latter: "It Goes Like This", "Get Me Some of That", "Make Me Wanna", "Crash and Burn", "Die a Happy Man", and "T-Shirt".