Ameris Bank Amphitheatre at Encore Park | Alpharetta, Georgia
It's time to 'shake your money maker as The Black Crowes makes their return, celebrating over 30 years of their debut studio record, Shake Your Money Maker. Catch their special reunion tour stopping by at Ameris Bank Amphitheatre on Sunday, 19th of June 2022. The Black Crowes is taking fans back in time as they promise to play the historical record 'in its entirety, plus all the hits including "Twice As Hard", "Hard to Handle", "Jealous Again", and "She Talks to Angels". Don't miss out on this chance to catch the legendary rock band from the 90s make a big live stage comeback on the 'Shake Your Money Maker' tour, in honor of their legendary breakthrough album. Book those tickets now!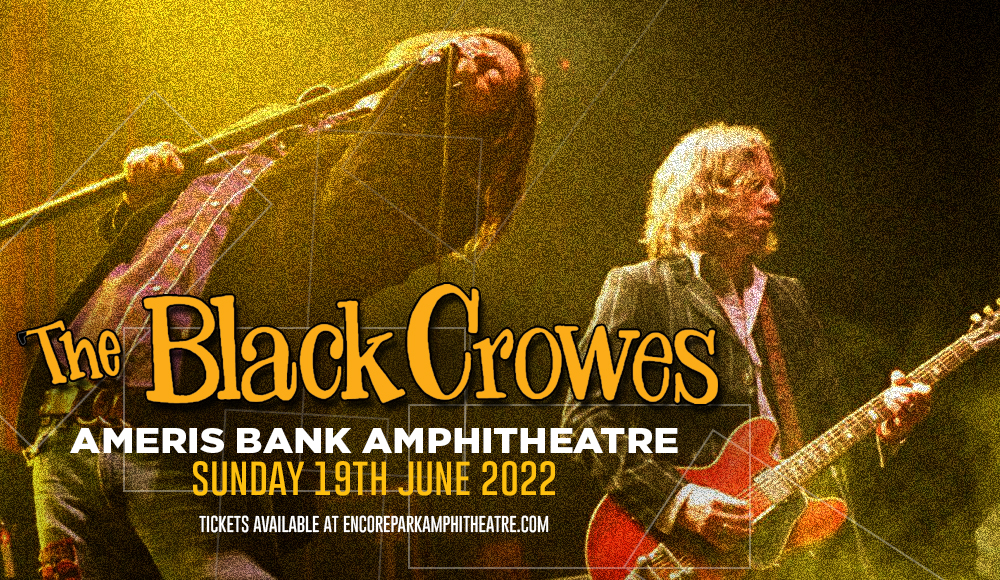 Over thirty years since its release in 1990, "Shake Your Money Maker" made a mark in the American rock music scene. From humble beginnings dating back to 1984 as "Mr. Crowe's Garden" initially formed by Chris and Rich Robinson, the band played gigs and demo sessions. After being signed and settling with the identity as "The Black Crowes", the band dropped their RIAA 5x Platinum-awarded debut album "Shake Your Money Maker", to which this tour pays great homage.
After skyrocketing success with their debut album that featured hit singles "Hard to Handle", "Jealous Again", "Seeing Things", among others, the band continued to serve hits with their succeeding records including "Remedy", "Sting Me", "Only a Fool", and "Good Friday".
The rockers who keep the band alive and going include lead vocalist Chris Robinson, guitarist Rich Robinson, and Sven Pipien on bass.
In an interview with UCR (Ultimate Classic Rock), Chris Robinson said "Our focus is a real high energy, guitar-driven rock 'n' roll show," talking about the tour. "There's not a lot of that in the world… We're pushing some air up there. I think that's the excitement of rock 'n' roll".
Last 2021, the band dropped a 30th-anniversary edition of the glorious record, containing all the songs from the original release of Shake Your Money Maker remastered, special unreleased songs and outtakes, two demos from Mr. Crowe's Garden, plus a recorded live performance set from 1990.
As music makes its return back to life at concert venues full-swing, take yourself down memory lane as the legendary rockers, The Black Crowes", pay homage to their glorious 1990 defining record, Shake Your Money Maker. They're playing the album live 'in its entirety, plus all the hits. Book your tickets now!