Ameris Bank Amphitheatre at Encore Park | Alpharetta, Georgia
As fans have almost reached the tipping point of waiting for the new album of Tears For Fears, the dark-hued synth-pop phenoms recently dropped a brand spanking new single as well as announcement of an upcoming album with the title track "The Tipping Point" and popped-in massive UK and US tour dates to boot. Indeed, Tears for Fears will go on a headliner tour which includes a pit stop over at the Ameris Bank Amphitheatre on Sunday 12th June 2022, along with post-grunge rock band, Garbage, as supporting act. TFF Lead vocalist and chief songwriter, Roland Orzabal says "'The Tipping Point' was "a long time in the making" and enthusing that he and Smith are "looking forward to playing our favorites from the new album as well as our classics from throughout the years". As legions of fans are shouting about this, they are quickly scoring tickets to the show. Act fast by clicking on that 'Get Tickets' sign up on this site. "The Tipping Point" world tour is on a roll, book your seats now!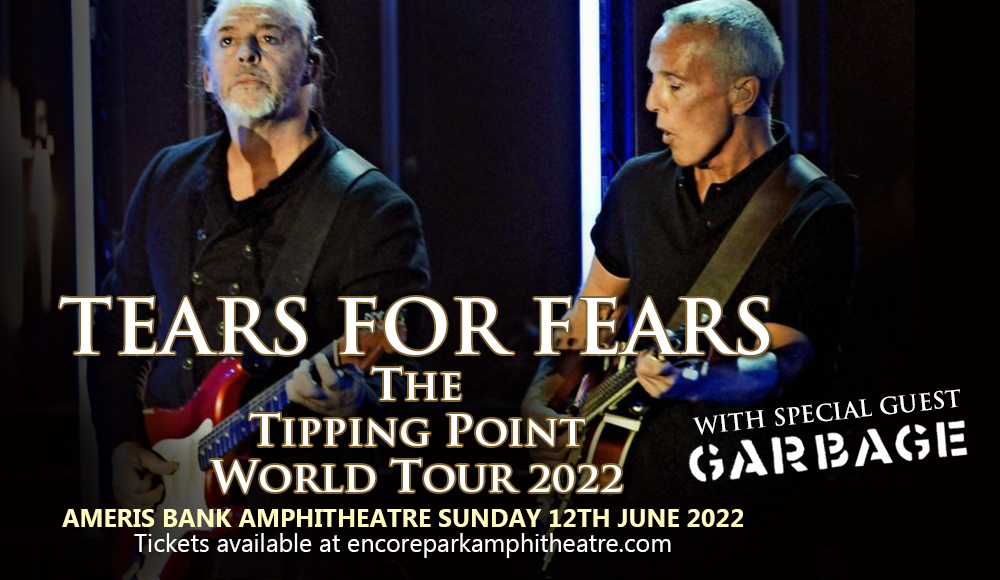 With multi-million selling albums and massive hit records to their name, Tears For Fears remain one of the most lauded bands, with their songs still playing on the radio, streamed on music platforms, and very much listened to and regarded as influential to this day. "Everybody Wants To Rule The World", "Mad World", "Shout", "Head Over Heels", "Sowing The Seeds of Love", "Woman and Chains", that is to name a few, are considered melodically and lyrically relevant across generations of music fans. Since their debut album "The Hurting", Tears For Fears has kept their music an honest expression of angst, pain, depression — a cathartic release of sorts from the madness one inevitably experiences at certain phases in their lives. They spoke and sang about mental illness, health, and wellness even way before these terms were openly used by the public.
Roland Orazabal's revealing interview with The Guardian recently about how he got to write "The Tipping Point" and some other tracks from the album not only disclosed part of the reason why it took them 17 years to come up with a follow-up album from the 2004 release of "Everybody Loves A Happy Ending", but it shows his writing about mental health going full circle, as this topic had become normalized far more recently.
Orzabal said: "This is progress. I think the role of the artist is to try and progress things in society and make things that were not acceptable become acceptable, slowly.
"And there's no better way of doing it than in music.
"It seeps in through your eyes and creeps inside your brain. Or something like that – to quote one of my lyrics from the new album.
"We're happy about it – very, very happy about it indeed.
"And having had my own mental illness struggles recently after the death of my wife, I am glad we can talk about it now."
It's been a long time coming, so welcome Tears For Fears live onstage with one big shout-out! Book your tickets now!