Ameris Bank Amphitheatre at Encore Park
As the world is slowly but surely opening up again, Styx is raring and ready to carry on with its summer 2021 U.S. Tour. "The Mission", Styx's 16th sonic masterpiece, will be the banner album of their much-awaited foray into the live concert scene. As Styx hits the Ameris Bank Amphitheatre stage on Friday 18th June 2021, fans will also be treated to an equally formidable guest supporting act, Collective Soul. "Man, have we missed you all!" Styx's Tommy Shaw said in a statement announcing the trek. "We are thrilled by the news that Styx will be hitting the road with our friends Collective Soul. After all this time off, (whew!) and now to get together with this masterful band of storytelling troubadours, we can't wait to see you all again live and in person, performing an evening of music we love. See you soon!" Celebrate freedom from lockdown with this amazing rockdown. Book your tickets now!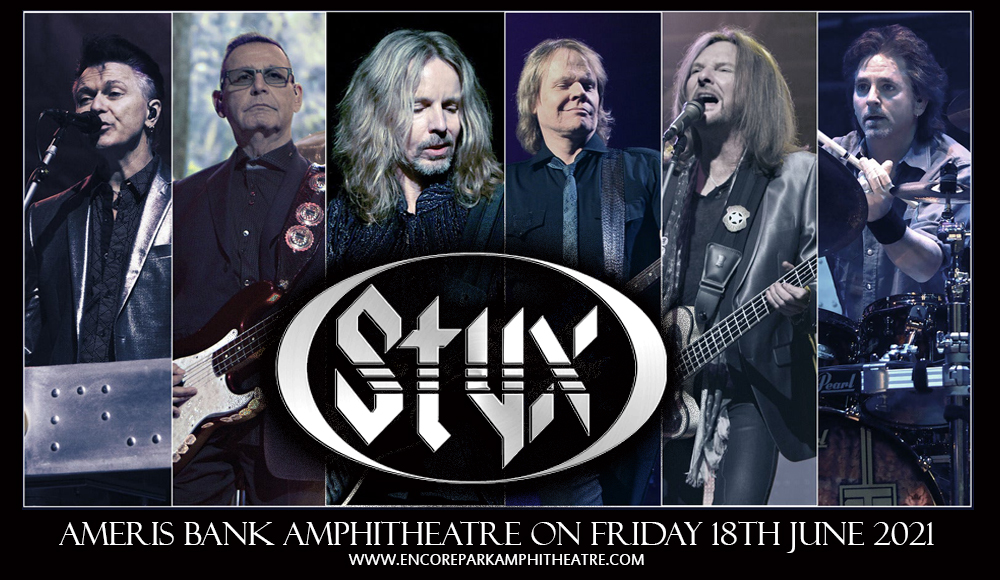 Styx stays true to its mission of never resting on its laurels. Their latest album "The Mission" is a testament to their staying power and their resolve to keep on pushing beyond sonic boundaries. This multimegamillion-selling rock band has made an indelible imprint in the annals of rock with eight songs hitting the Top 10 on the US Billboard Hot 100, as well as 16 Top 40 singles. Their progressive rock sound, melding acoustic, hard rock guitars, synths, power ballads, and elements of theatrics, have spawned a slew of mega-hits like "The Best of Times", "Renegade", "Babe", " Show Me The Way", "Mr. Roboto", and many more.
Styx's incredible legacy of recorded studio music is best experienced live. "Someone once told me, 'I've seen Paul McCartney, I've seen the Rolling Stones, I've seen U2, I've seen the Police. But my favorite show last year was STYX.' I like to say we're the best-kept secret — but perhaps we're not anymore." Adds the perennial wunderkind vocalist Tommy Shaw, "There are so many portals to reach your musical soul, and our live show is like a religious experience where people come to commune and testify. We have a pretty sophisticated audience, and we really respect that. We didn't used to have people who would come see every show, but now they're coming back again and again for more. And we owe it to our fans to continually rehearse, prepare, and improve."
Styx has an electrifying presence onstage that even their guest supporting act, alt-rock band Collective Soul is equally thrilled to be performing with their music heroes. Collective Soul's Ed Roland added, "Not only is it great to get back to live music and see our fans, family, and friends, but to experience it with a great band like Styx, it's awesome! Let's rock!" Say amen to that and quickly lock in your tickets now!