Ameris Bank Amphitheatre at Encore Park | Alpharetta, Georgia
American rock singer-songwriter Stevie Nicks is back on the road for the second leg of her U.S. tour! This time around, she's bringing along 'A Thousand Miles" singer Vanessa Carlton with her on tour! Known for her work with Fleetwood Mac, Nicks has also took the world by storm for her solo craft, bagging eight Grammy nominations. She was inducted into the Rock and Roll Hall of Fame in 2019 as a solo artist. Singing "Stop Draggin' My Heart Around" in 1981, Stevie Nicks has become a prominent name in the rock scene, and moreover her work with her band. So, don't miss out on timeless rock hits with Stevie Nicks live in concert at Ameris Bank Amphitheatre on Wednesday, 12th of October 2022 by booking your tickets now!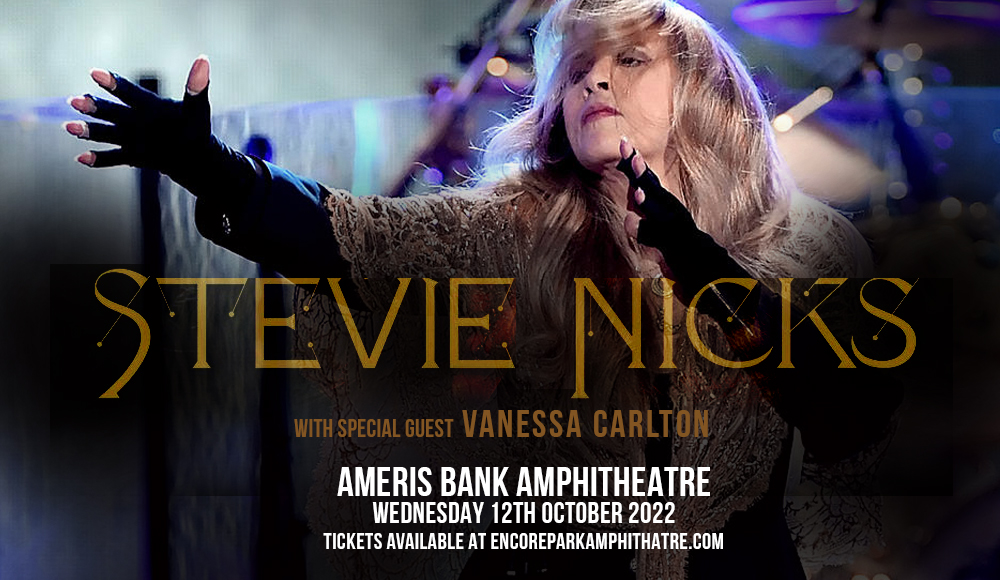 The legendary rock singer Stevie Nicks is back in town as she kicks off the second leg of their U.S. tour, spanning through the end of October. Set to serve her timeless classic rock hits back on the live stage, she's also bringing along a special guest, the "A Thousand Miles" singer Vanessa Carlton whom she serves as a close mentor. As a prominent name in the rock scene, Stevie Nicks took the world by storm with her work as a band with Fleetwood Mac where she took part in legendary records and milestones, and as a solo artist releasing her own legendary rock hits.
Stevie Nicks began her solo career while also staying as a member of Fleetwood Mac. Her debut album Bella Donna hit #1 on the Billboard 200, bagging a 4x Platinum certification from the RIAA. The album was included in Billboard's "The Greatets of All Time Billboard 200 Albums" chart. Named as "Reigning Queen of Rock and Roll" by Rolling Stone after the release of her debut record, Nicks continued to bless the scene with her powerful work. She was included in Rolling Stone's lists "100 Greatest Songwriters of All Time" and "100 Greatest Singers of All Time".
Her songs with Fleetwood Mac "Lanslide" and "Dreams" were also included in Rolling Stone's "500 Greatest Songs of All Time". From her solo catalog, her hit track "Edge of Seventeen" made it to the list as well.
Throughout her solar career, the woman has bagged eight Grammy Award nominations and two American Music Award nominations.
In 2020, she released a live album and concert film named "24 Karat Gold the Concert". Along with the live album, she surprised fans by releasing a new single "Show Them the Way" – her first new song six years since her last 2014 single "Lady".
Stevie Nicks' notable and timeless hits include "Leather and Lace" (with Don Henley), "Sometimes It's a Bitch", "Talk to Me", "I Can't Wait", "Stand Back", "Stop Draggin' My Heart Around" (with Tom Petty and the Heartbreakers), and "Edge of Seventeen".
As her music continues to live on the airwaves for generations to come, Nicks is set to bring 'em back to its home on the live stage as the crowd rocks it all out as she leads her signature astounding live rock shows. This time, she's bringing along Vanessa Carlton, whom she served as a mentor.
At a time when Carlton was dreading having to keep on performing her debut hit A Thousand Miles", the singer shared that Nicks helped her find a new perspective and bring back the love for her beloved track.
"Stevie Nicks, I have the great honor of calling her a very dear friend of mine — she's really my mentor —and she said to me, this was years ago, she said, 'Vanessa, do you think there is any show that I play that I'm not playing "Landslide"?'" Carlton told PEOPLE.
So, get yourselves ready for a legendary night of rock music by the one and only Stevie Nicks live on stage at Ameris Bank Amphitheatre, along with a splendid guest performance by Vanessa Carlton. You wouldn't want to miss this one-of-a-kind rock concert experience, so book those tickets now!