Ameris Bank Amphitheatre at Encore Park | Alpharetta, Georgia
Beloved country songwriter Sam Hunt is back on the road this summer!! As part of a massive 29-date slog, including stops in Detroit, Chicago, Los Angeles and Miami, on Thursday 13th July, along with friends Maren Morris and Chris Janson, he'll be hitting the Verizon Wireless Amphitheatre at Encore Park!! Get tickets quick!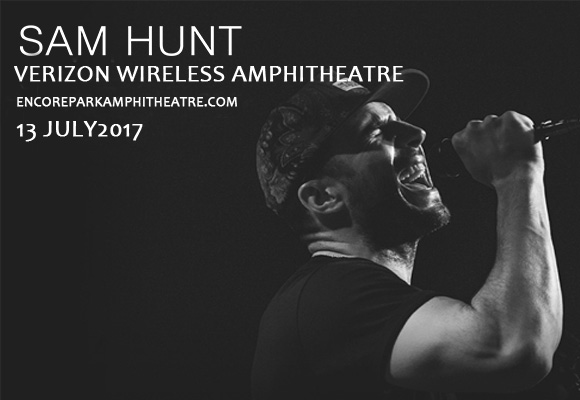 Footballer-turned musician Sam Hunt has gained a massive following and respect for staying true to his country roots – whilst at the same time, inverting, adding to, and completely bucking tradition. He's been known to cover Beyonce and Whitney Houston, and happily performed under banners with flowery emblems that would have been more at place at a Hendrix show. He's very self-aware of his own habit of breaking trends, sometimes doing so on purpose, and in doing so effectively promoting himself to a wider audience, stating; "I deliberately dressed differently, which has broken down stereotypes. People who might not have listened to me if they'd seen me sitting on a hay bale in a barn on the front of a record — they give the music a chance. The most flattering thing I hear is, 'I didn't think I liked country music before I heard your record.' " His blend of R&B, rap and pop elements into country has, like anything that breaks boundaries, turned up a few noses, but not nearly so many as the minds he engaged.
In this way, he could be said to be responsible for turning hundreds of new people into country fans – no mean feat by anyone's standards.