Ameris Bank Amphitheatre at Encore Park | Alpharetta, Georgia
Breaking the radio silence of the concert scene is one of rock music's most celebrated live acts of all time. Phish has pulled all the stops and came up with a combined Summer-Fall 2021 tour. Now Phisheads in this area has got all the reasons to make some noise as Phish are making their way to the Ameris Bank Amphitheatre on Saturday 31st July 2021. Known for their improvs and extended jams, even their most loyal fans could not predict what's on their setlist, so everyone's always in for a big concert surprise. But first — tickets! Make sure to book and save your seat before the big day! Snag those tickets on this site by clicking on that 'get tickets' sign. Swift, safe, and secure way to get into this Phish concert site!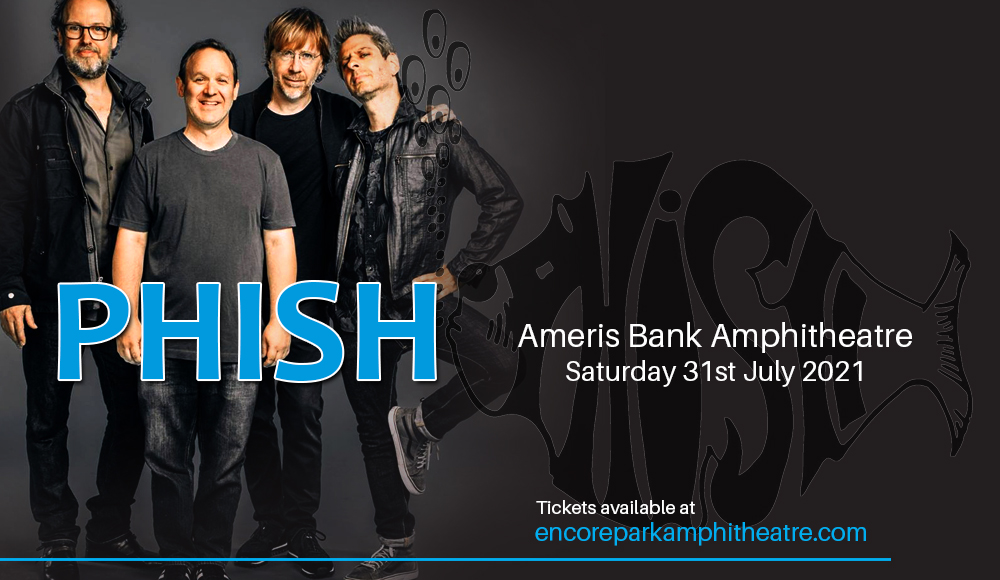 Formed in Burlington, Vermont, in 1983, Phish's current lineup consists of guitarist Trey Anastasio, bassist Mike Gordon, drummer Jon Fishman, and keyboardist Page McConnell, all of whom perform vocals, with Anastasio being the primary lead vocalist. The band has assembled a tribe of followers mainly by word of mouth and through the exchange of live recordings. Like Pied pipers, Phish has lured them into a web of funk, progressive rock, psychedelic rock, folk, country, jazz, blues, bluegrass, and pop sounds like an endless loop, loosely described as 'jams' or improv sessions. Christened as 'Phisheads', Phish's rock-solid and loyal fanbase are tolerated for taping their live concerts, sharing, and distributing them online for free. In the 90s, Phish was among the first artists to utilize and mobilize the internet to grow their fanbase. Rolling Stone magazine described Phish as "the most important band of the '90s."
Over the years, Phish has had their hiatus and disbanding moments. Phish reunited officially in October 2008 and has constantly been on the road since. Then as the world stood still due to Covid 19 in 2020, Phish excitedly announced that… "At long last, through this unusual and ever-changing landscape, we are excited to announce a combined Summer + Fall 2021 tour. Thanks for your patience!"
Indeed Phish fans have patiently waited…and now comes the mad rush of getting their hands on tickets to the show. Lock in your tickets now!