Ameris Bank Amphitheatre at Encore Park | Alpharetta, Georgia
If you thought you missed your chance to watch the legendary Peter Frampton live, well, guess again—you're fortunate enough to get another opportunity at his aptly named Never Say Never Tour 2023, which coincidentally is the exact phrase he used at the finale of his last tour. The trek will kick off in June and see the icon travel right through to August. With his health back on his side and his incredible ability to make a guitar sing, fans are absolutely thrilled at what is going to be a show for the ages. Like he always does, he will put on an electric performance that will leave you both wowed and extremely satisfied. You cannot afford to miss out on this opportunity because you may never see it again. Clicking the "GET TICKETS" button up top will guarantee your spot at the Ameris Bank Amphitheatre on Tuesday, June 27, 2023.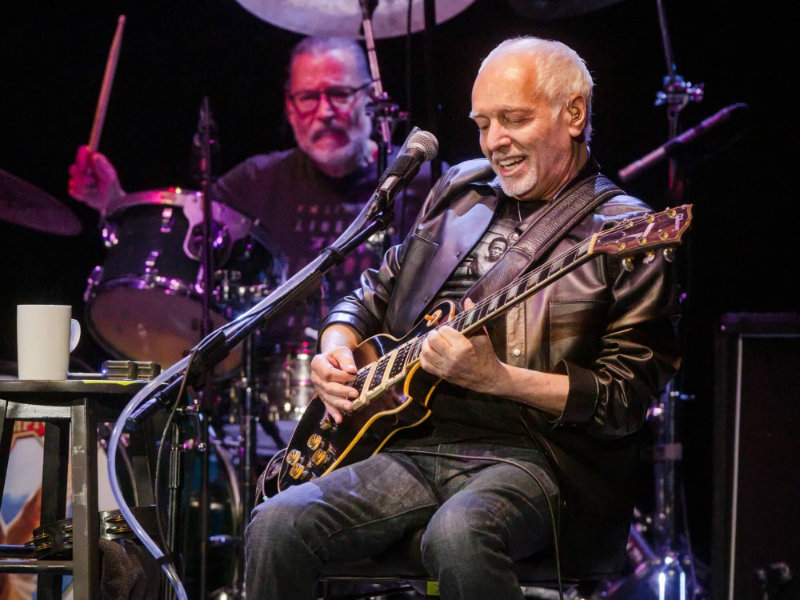 Rock history is nothing without mentioning the astounding achievements of legendary artist and guitarist Peter Frampton. Born in April 1950 to Peggy and Owen Frampton in Kent, UK. At the tender age of 10 years old, he played in a band called The Little Ravens, and he would spend his time with David Bowie (who both went to the same school) playing Buddy Holly songs together. As his skills grew, so did his accolades and his foray into fame started when he played as a successful child guitarist in the band The Herd, which had three top ten hits in Britain.
In the early 1970s, Peter was introduced to the "talk box" by Peter Drake, and that would become one of Frampton's trademark guitar effects. During this time he also embarked on a solo career, releasing his debut album, Wind of Change, and shortly after he released a further five albums, including Camel in 1973, Somethin's Happening in 1974, and Frampton Comes Alive in 1976. He was also introduced to the US market, winning favor by gaining a gold record, rising to number 32 in the charts, and receiving a star on the Hollywood Walk of Fame.
The 80s, 90s, and 00s saw Peter star rise into the stratosphere, releasing hit after hit, appearing in The Simpsons as himself, for The Simpsons Headlining Homerpalooza, as well as writing the music for the Oscar Award-winning movie, Almost Famous.
As time went on, he released even more music, toured a lot, and racked up award after award, but unfortunately, as fate would have it, he was diagnosed with IBM, a progressive muscle disorder, and in 2019, he announced retirement from his touring schedule, but luckily for all the fans around the world, he is back and ready to rock out again.
With such a colorful history of entertaining fans, you can expect this show to be truly magical, and buying your tickets now is a must. Getting them is pretty simple, so just scroll up and hit that "GET TICKETS" button to secure your place and be ready to witness greatness unfold in front of your eyes.