Ameris Bank Amphitheatre | Alpharetta, Georgia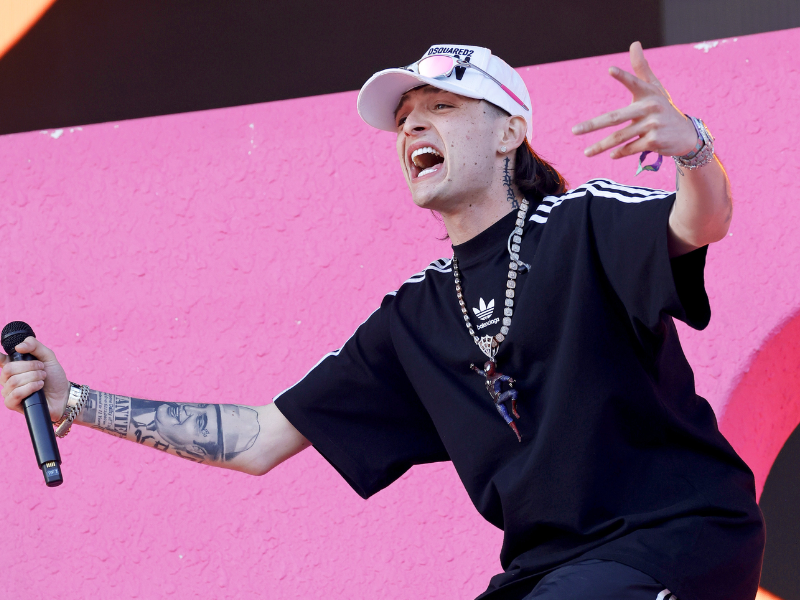 Up-and-coming Mexican artist Peso Pluma is bringing his "Doble P" concert tour to the Ameris Bank Theatre on Friday, July 28, 2023! Initially starting his career at the height of the pandemic in 2020, Peso Pluma quickly became popular in the Latin music community because his tracks primarily involved the Regional Mexican music genre. The artist broke through the music industry with his hit "El Belión", a collaboration with Raul Vega that received more than 400 million streams when it went Tiktok viral. Now, he's ready to conquer the US audience with his debut tour. Expect an outstanding performance of his most popular hits such as "Ella Baila Sola" and "AMG" from this rising artist because he is here with something to prove! So, if you're a fan of great music and want to experience the unique energy of Mexican music, don't miss the chance to listen to Peso Pluma live and book your tickets now!
Peso Pluma finally debuts in the US with his "Doble P" concert tour and will grace the stage of Ameris Bank Amphitheatre on Friday, July 28, 2023! Regional Mexican music has slowly grown in global popularity over the past few years, and Peso Pluma is considered as one of the musical acts leading the thriving success of the genre today. Growing up, Pluma recalls listening to Regional Mexican music with his family and thought that his voice shined the most singing in this genre. After casually writing songs as a teenager, Pluma started his professional music career by releasing his live albums, "Disco en Vivo" and "Disco en Vivo Vol.2", in 2020. He continued to release songs for two years until he released the track that gave him mainstream success in the Latin community, "El Belicón" with Raul Vega, a song that tells the life of a drug cartel leader. It became a Tiktok hit and the starting point of Pluma's continued success.
In 2023, due to increasing popularity, Pluma collaborated with other established artists, such as Mexican-American singer Becky G with their song "Chanel" and Argentine DJ Bizarrap with his famous "Music Sessions" with other renowned Latin music artists.
The song that became Pluma's break into the US market was "Ella Baila Sola". The song gave Peso Pluma opportunities to perform in the United States after it reached the Top 5 of the US Billboard Hot 100. And in early 2023, Pluma was given a chance to perform on US television on The Tonight Show with Jimmy Fallon, where he performed "Ella Baila Sola", officially presenting his artistry and Regional Mexican Music to the global stage.
Peso Pluma truly is one of the world's fastest-rising acts, and he is finally holding his US debut tour called "Doble P", where he will perform 17 shows throughout the country. His setlist includes his most popular hits, "AMG", "PRC", "El Belicón", and "Ella Baila Sola". The setlist also includes his other tracks, such as "Sembrando", "Por Las Noches", and "Chanel", a collaboration with Becky G.
Be a part of the Regional Mexican Music takeover as Peso Pluma take on centre stage with this tour, and book your tickets now!