Ameris Bank Amphitheatre | Alpharetta, Georgia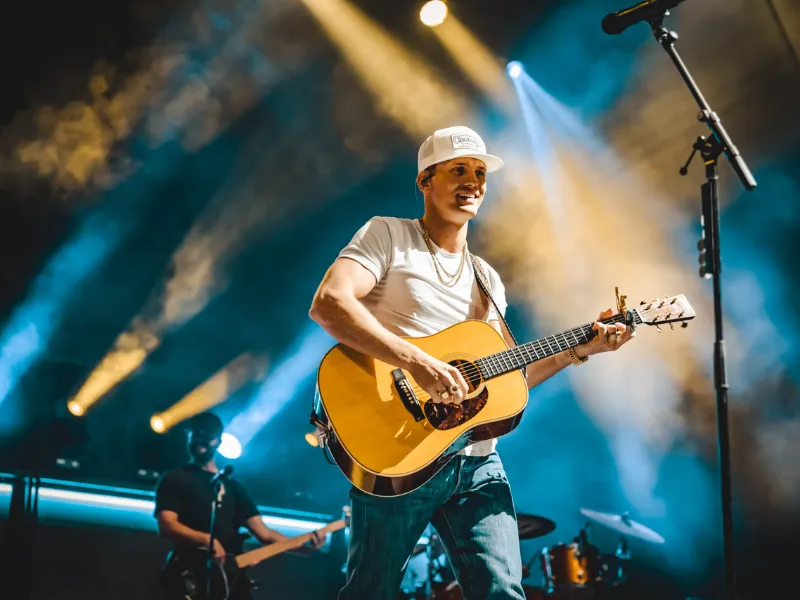 Experience a fiery country music encounter with Parker McCollum on Friday, May 31st, at the Ameris Bank Amphitheatre, featuring guests Corey Kent and George Birge! This concert event comes hot off the road from the singer's "Burn It Down Tour," a nationwide stint set to visit 41 cities. With a whiskey-smooth vocal range and impeccable acoustic technique, Parker McCollum built his own space in the country scene through inspirations from blues, roots, and Americana. He instantly stole the spotlight after releasing his debut album, The Limestone Kid, and held it steady with chart-breaking follow-ups such as the Billboard number 6 Top Country Album, Gold Chain Cowboy. As of today, McCollum is widely regarded as one of the best of his generation, having recorded platinum-certified songs "Pretty Heart" and "Handle on You," as well as the tour's titular viral hit. Watch Parker McCollum at the Ameris Bank Amphitheatre, Georgia's premier hotspot for live music. Get your tickets today!
Blazing across the roads of North America, Parker McCollum comes in hot with his "Burn It Down Tour!" Named after the singer's latest viral hit, the 41-city series of concerts will tear across the coasts, kicking off in Washington and heading westbound deep into the heart of Texas. But before that, the tour will end its spring leg on May 31st at the Ameris Bank Amphitheatre, with special guests Corey Kent and George Birge!
"2024 is going to be the biggest and best show we have ever put together. I can't wait for all the fans to come see what we are working up. The Burn it Down Tour is going to be absolutely epic," McCollum announced in an official press statement.
Take an old-school romantic, give him a guitar, indulge him in the sweetness of roots rock and blues, and you'll get Parker McCollum. Bearing a unique knack for innovation, the next-gen icon introduced Americana influences and soul-baring sentiment to the tried and true formula of country music with astounding results! His 2015 debut album, The Limestone Kid, set a high-flying precedent, a path he certifiably paved with his follow-up Billboard 200 ventures Probably Wrong, Gold Chain Cowboy, and Never Enough. From 2020 to 2022, McCollum released a string of platinum hits—"Pretty Heart," "To Be Loved By You," and "Handle on You"—all three of which topped the Billboard Country Airplay charts. He also won Breakthrough Video of the Year at the 2022 CMT Music Awards, in addition to New Male Artist of the Year at the Academy of Country Music Awards.
Guest act Corey Kent is an especially evocative country crooner made famous by the Billboard-breaking platinum single "Wild as Her" from his Top 2 Heatseeker album Blacktop. George Birge, meanwhile, was the other half of the iconic Waterloo Revival duo and is now known for "Beer Beer, Truck Truck" and Country Airplay Top 7 hit "Mind on You."
Here's the setlist from one of McCollum's latest shows for a potential glimpse of his upcoming concert:
To Be Loved by You
Wait Outside
Meet You in the Middle
Drinkin'
Why Indiana
Don't Blame Me
I Can't Breathe
Rest of My Life
Speed
Young Man's Blues
Burn It Down
Things I Never Told You
Hell of a Year
Like a Cowboy
Stoned
I Ain't Going Nowhere
Handle On You
Pretty Heart
Hurricane
Join Parker McCollum, Corey Kent, and George Birge this Friday, May 31st, as the "Burn It Down Tour" marks its spring season finale at the Ameris Bank Amphitheatre! The venue's sprawling grounds can accommodate 12,000 fans, seamlessly blending the beauty of the outdoors and cutting-edge concert technology, including outdoor surround sound and spectacular light shows. Click the button above and book your tickets today!