Ameris Bank Amphitheatre at Encore Park | Alpharetta, Georgia
The news of Bo Rinehart leaving NEEDTOBREATHE shook all of their fans, and made us all worry that that might be the end of an era. But defying all expectations, NEEDTOBREATHE came out stronger than ever, releasing what critics say to be their "best album yet" – Out of Body. Made up of wonderful harmonies, the type of music that's as at home in the center of a sold out stadium as it is sat around a campfire, and lyrics that are as optimistic as they are genuinely moving, NEEDTOBREATHE have long been something special — and new album Out of Body is no different. And this October, you will have the chance to experience jus that – and out-of-body experience seeing NEEDTOBREATHE live! Tickets are still available at the link below.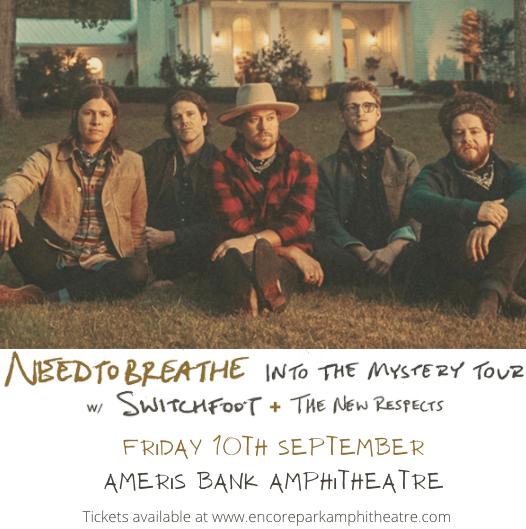 There is one thing that the band's new album everyone is, and everyone who's laid their hands on it agrees – it is hopeful. Weather it is for a better tomorrow, a better today, hanging on to youthful innocence, exploring the knowledge that age and experience can bring, or simply finding that reason to live, Out of Body is filled with hope, hope we all need after the difficult year we went through. And whether you give into the hopeful sounds in the comfort of your home, or around the campfire, you will find your heart filling with it. But experiencing it surrounded by thousand of other hopeful hearts, feeling the notes go trough your body and Bear's raw voice cut through the air – that is something to look forward to. And Ameris Bank Amphitheatre, experienced at hosting events to remember, will provide the best setting – for us to be hopeful together.