Ameris Bank Amphitheatre at Encore Park | Alpharetta, Georgia
Are you ready to experience the musical sensation that's sweeping the country? Then come down to Verizon Wireless Amphitheatre at Encore Park in Alpharetta Georgia on Saturday 14th September 2019 to see Lynyrd Skynyrd for a live concert performance. This event will delight and satisfy fans of Lynyrd Skynyrd to see heartwarming performances from one of most legendary bands in the industry. You could join a sold-out crowd to witness an event like none other that features their final farewell performances! Tickets available now but are selling out fast!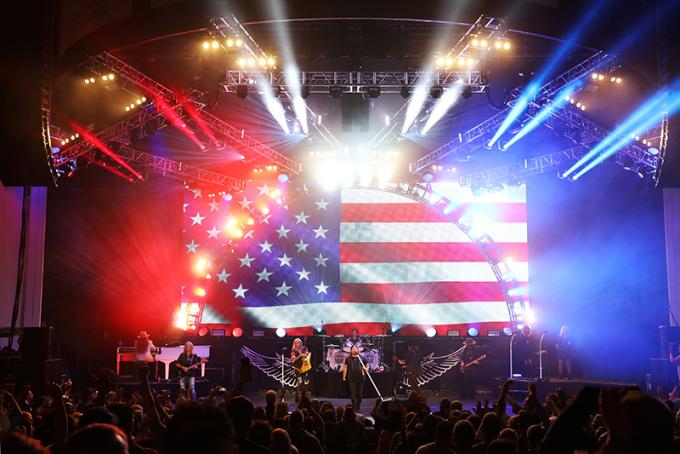 Previous concerts of Lynyrd Skynyrd in 2019 have proved to be a great success. Grab your favorite artist t-shirt, memorize latest album lyrics so when Lynyrd Skynyrd picks up that microphone you can sing along too. There are a plethora of late night entertainment in close proximity as Alpharetta is renowned for having fantastic nightlife, so the night does not have to end straight away. Parking is easy, although we recommend leaving a enough time either side of the concert to allow for the parking drama. Feel free to take any photos you wish with a no-flash camera, but remember to be present and enjoy the moment as well! All of Georgia knows you will have astounding time.
A band synonymous with the Southern Rock explosion of the 1970s, Lynyrd Skynyrd was formed in 1964, under the name My Back Yard. Over the years, they honed their craft and became Lynyrd Skynyrd, releasing their eponymous debut (subtitled "Pronounced Leh-nerd Skin-nerd") in 1973. The album was a hit, launching the single "Freebird", and their popularity was furthered with their follow-up, Second Helping, which was platinum-certified and contained their seminal hit, "Sweet Home Alabama". In 1977, at the peak of the band's popularity, tragedy struck when frontman Ronnie Van Zant, guitarist Steve Gaines and backup singer Cassie Gaines lost their lives in an airplane crash. The remaining band members went their separate ways for ten years, but Lynyrd Skynyrd officially reformed with a new line-up in 1987, and has continued to tour and record together ever since.
In 2018 Lynyrd Skynyrd brought out the news of their last ever tour dates, but luckily for you, their tour has been extended – grab your tickets to be able to say I was there!