Ameris Bank Amphitheatre at Encore Park | Alpharetta, Georgia
What a Song Can Do… it can trigger eagerness and excitement among fans to flock to the Ameris Bank Amphitheatre on Saturday 2nd October 2021 to catch as Lady A as they swing by for a live concert. What a Song Can Do Tour marks Lady A's return to the road this 2021 and cover more ground as they move around various key cities and states around the country. Lady A may be branded as a country act, but their songs have gone beyond to crossover to the mainstream. Their biggest hit singles like "Need You Now" and "Just A Kiss" have charted worldwide, places where American country music is almost non-existent on their local radio. And that's what a song can do — it's a universal force that strikes an emotional chord on everyone. Don't miss Lady A! Save the date and get your tickets now.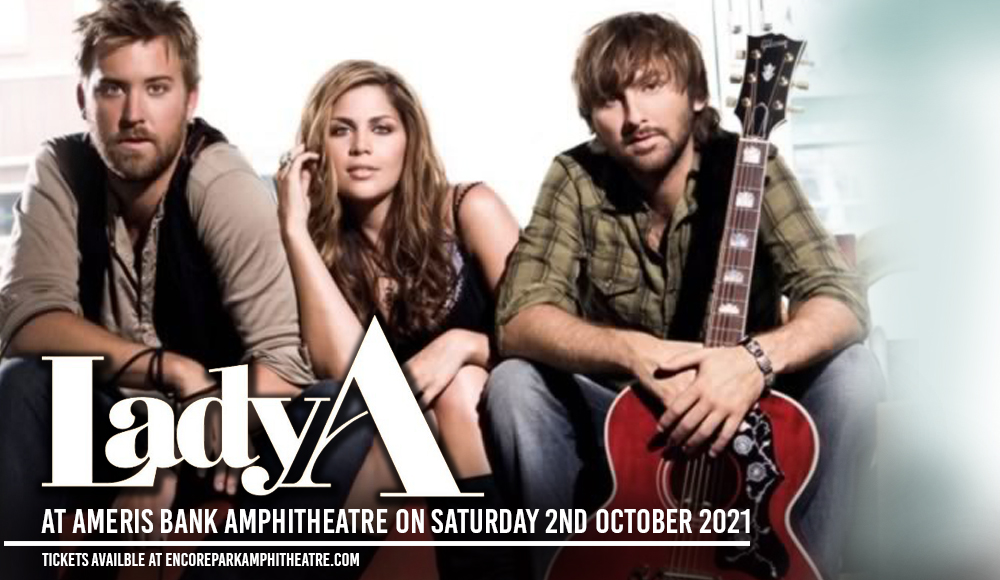 Despite the controversy and the name change, Lady A (formerly known as Lady Antebellum) continues to attract fresh sets of audiences and retain the loyalty and fervor of their long-time fans. It's not the name, it's "what a song can do". Hence, this tour aptly titled as such, is Lady A's gesture of appreciation towards their followers.
"This tour is really going to be about letting our fans know how much they mean to us and what music has done for all of us over the last year…which is the essence of the tour name. We started writing a song called 'What A Song Can Do' and it turned into a love letter to our fans," Charles Kelley says in a press release announcing the tour.
The group debuted in 2007. and since then, has released a total of 8 albums. The first three albums are RIAA certified platinum multi-platinum albums. These albums have spawned sixteen singles on the Hot Country Songs and Country Airplay charts, of which nine have reached number one. Their all-time smash hit "Need You Now" is the longest-lasting number-one single, spending five weeks at the top position in 2009. Their 2011 hit "Just a Kiss", also reached number one on the Adult Contemporary charts.
Lady A's biggest chart-toppers also award-winners. In 2008, Lady A was awarded Top New Duo or Group by the Academy of Country Music and New Artist of the Year by the Country Music Association. Their Grammy-winning streak started with two nominations at the 51st Annual Grammy Awards, followed by two more at the 52nd Annual Grammy Awards, and took home the Best Country Performance by Duo or Group with Vocals for "I Run to You". In the 53rd Annual Grammy Awards, they bagged five awards including Song of the Year and Record of the Year for "Need You Now"; then scored "Best Country Album" at the 54th Annual Grammy Awards.
Touring has always been the event fans look forward to; and as they go back on the road after a year of lockdown, Lady A is overflowing with love to connect with their fans again…
"We are gonna soak up these moments on stage more than we ever have before," Kelly adds. "It's gonna be hard to wipe the smiles off our faces and I'm sure the tears off of Hillary's. We were lucky enough to still release new music this past year but there are songs like 'Champagne Night' and 'What If I Never Get Over You' that we haven't been able to play live much so we know those will make for some really special moments."
So what can Lady A concerts do? It drives fans in a frenzy for a mad dash for tickets! Book your tickets in a flash. Click on that 'Get Tickets' link on this site to buy your tickets now!