Ameris Bank Amphitheatre at Encore Park | Alpharetta, Georgia
Are you hyped for one of the most epic tour packages to come around in rock music this year?? That's right, it's Korn and Alice In Chains – teaming up for a MASSIVE heavy tour that will bring them to the Verizon Wireless Amphitheatre at Encore Park on Thursday 25th July 2019!! No hard rock or metal fan is going to want to miss this – get your tickets NOW!!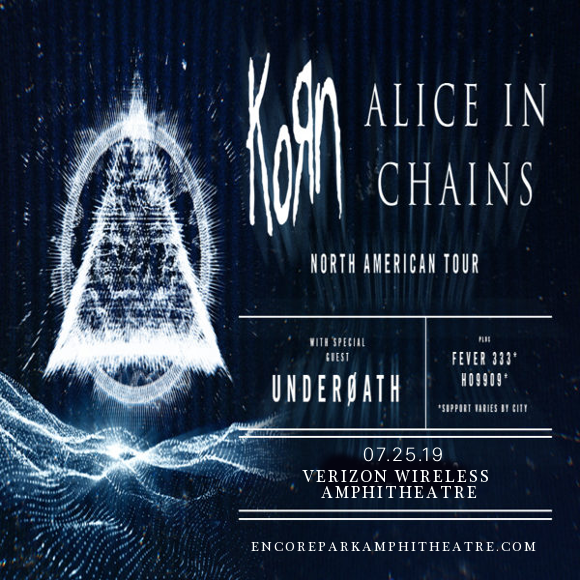 Gaining a reputation as the band that pioneered nu-metal with their funk-influenced, drop-tuned sound, Korn's last offering was 2016's "The Serenity Of Suffering," followed by singer Jonathan Davis' solo album, 2018's "Black Labyrinth". The band have confirmed that they're now back in studio working on their 13th full-length album, which may be out later this year! Either way, fans can expect to hear new material live.
As for Alice In Chains, they're on tour in support of their latest album, the hugely successful "Rainier Fog". Nominated for the Best Rock Album Grammy Award, it was lauded by critics, with Exclaim! writing; "The band are much more than a simple grunge band these days, and their use of doom and sludge elements has come to be the best aspect of their sound."
What are you waiting for?? Grab those tickets while you still can!