Ameris Bank Amphitheatre at Encore Park | Alpharetta, Georgia
Five Finger Death Punch co-headline with Megadeth and support from The Hu, and Fire From The Gods come to Ameris Bank Amphitheatre on Monday, October 10th 2022. This is the only correct way to start your Rocktober, with an insane mix of Hard rock, Metal and Mongolian Metal, with a gig so awesome that Megadeth, while playing a full set, is still just an opening band! Grab some tickets now, for one of the loudest shows ever! Both headliners also have some brand-new albums, ready and waiting for release later this year, and you get to hear them live first!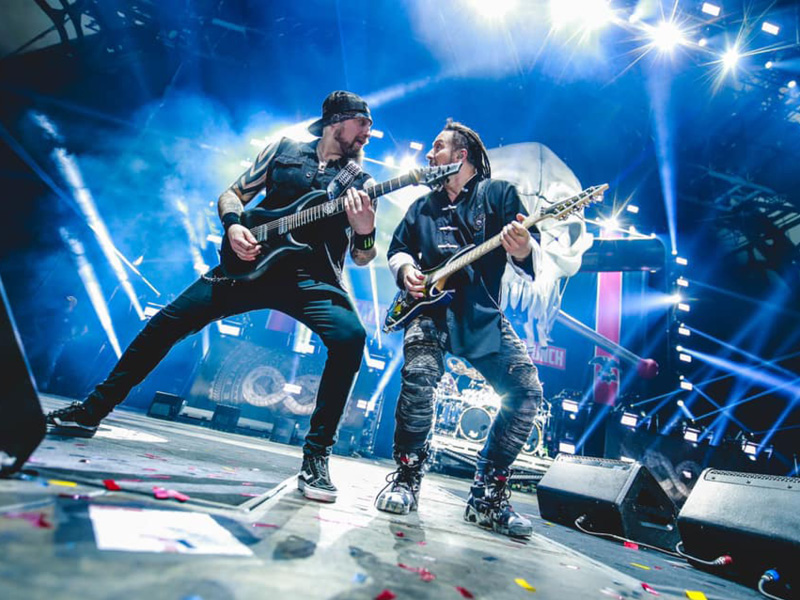 The upcoming album, Afterlife, from Fife Finger Death Punch, will be the band's ninth studio album. The title track was just released this past April, with the band stating that it will be "arguably the most diverse record of the band." 5FDP are from Las Vegas, Nevada, formed in 2005, and are currently rhythm guitarist Zoltan Bathory, lead singer Ivan Moody, bassist Chris Kael, drummer Charlie Engen, and lead guitarist Andy James. Their previous album, F8, was released in February 2020, featuring the singles, "Inside Out", and "A Little Bit Off", both of which topped the Mainstream Rock chart.
The upcoming album, The Sick, The Dying and The Dead, from Megadeth will be their 16th studio album, and has a release date set for July 2022. The heavy metal band is from Los Angeles, CA, and is lead singer and guitarist Dave Mustaine, guitarist Kiko Loureiro, and drummer Dirk Verbeuren. Their previous album, Dystopia, from 2016, was widely considered a return to form for the band, debuting at number 3 on the Billboard 200 and earning the band their first Grammy Award for Best Metal Performance, for the title track, in 2017.
The Mongolian folk rock come metal band, The Hu are from Ulaanbaatar, Mongolia, naturally. Their debut and only album so far, The Gereg, was released in September 2019 with Loudwire Magazine naming it one of the top 50 albums of the year. The band is currently Galbadrakh "Gala" Tsendbaatar, Nyamjantsan "Jaya" Galsanjamts, Enkhsaikhan "Enkush" Batjargal, and Temuulen "Temka" Naranbaatar.
Fire From The Gods' were supposed to enter the studio in January to begin work on a brand-new album, the band have been silent about the results so far, but I think it's safe to assume we will get some surprise songs during this tour. Formed in Austin, Texas in 2007, the band is lead guitarist Drew Walker, bassist Bonner Baker, rhythm guitarist Jameson Teat, drummer Richard Wicander, and lead singer AJ Channer. Their previous album, American Sun, came out in November 2019.