Ameris Bank Amphitheatre at Encore Park | Alpharetta, Georgia
August 1 will be a rock fest at the Ameris Bank Amphitheatre with Disturbed, Breaking Benjamin, and Jinjer! Igniting rock enthusiasm in Alpharetta, Georgia, there is much to expect from their solid rock performances. Firstly, you can only fully experience the power of Disturbed's music when you see them live. You cannot stop yourself from head-banging with their songs like "The Sound of Silence" and "Vengeful One." To add to the fray, Breaking Benjamin's music, such as "Angel Falls" and "Dance With The Devil," is sure to blow your minds. Leaving you wanting more, Jinjer takes their classic hard rock music fused with Ukrainian influences like their hits "Vortex" and "Mediator." Tickets are now available. Get yours now!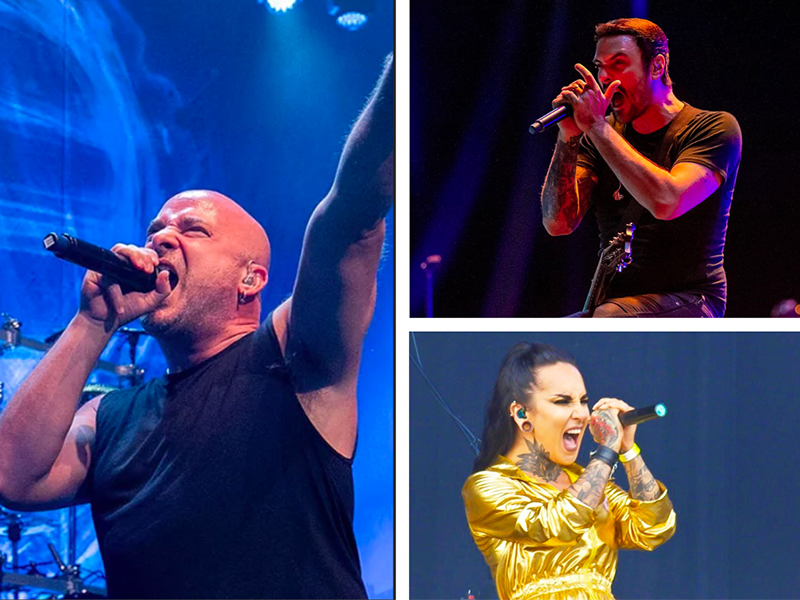 Disturbed is a heavy metal band. With their aggressive hard rock and alternative metal sound and David Draiman's unflinching swagger as the band's frontman, they have skyrocketed to stardom in the music scene in the 2000s. Along with Draiman are rock enthusiast bandmates that include Dan Donegan (guitarist/keyboardist), John Moyer (bassist), and Mike Wengren (drummer). In their long career, they have released eight studio albums. Five of these eight were consecutive top charting on Billboard 200. Starting with "Believe" (2002), followed by "Ten Thousand Fists" (2005), "Indestructible" (2008), "Asylum" (2010), and "Immortalized" (2015). They are considered to be at par with modern rock legend Slipknot.
Breaking Benjamin, a Pennsylvanian hard rock band, made their debut in the early 2000s with a style of alternative rock laced with metal. The band was established by the band's lead vocalist Benjamin Burnley and drummer Jeremy Hummel. The band has been in constant lineup changes, which have affected their sound through the years. At the beginning of their career, the lineup includes Aaron Fink and bassist Mark Klepaski. During this time, they released their first and second albums, "Saturate" (2002) and "We Are Not Alone" (2004). Hummel would then leave the band in 2005. He was replaced by Chad Szeliga. In 2006, they released "Phobia," which was later followed by "Dear Agony" in 2009. After "Dear Agony," the band decided to go on hiatus. In 2015, they came back with "Dark Before Dawn." Their most recent release is the 2018 album "Ember."
Jinjer is a Ukranian metalcore band. Currently, the band comprises Tatiana Shmailyuk, Roman Ibramkhalilov, Eugene Abdukhanov, and Vladislav Ulasevich. No founding member has remained in the band. Incorporating a wide range of influences, such as R&B, soul, hip-hop, and all forms of heavy metal, the band has released bop albums such as "Cloud Factory" (2014) and "Wallflowers" (2021).
Meet these rock sensations at the Ameris Bank Amphitheatre on Tuesday, August 1. Buy tickets now!