Ameris Bank Amphitheatre at Encore Park | Alpharetta, Georgia
Get your feet ready for some line dancing as the dynamic country music duo Brooks And Dunn are headed for the Ameris Bank Amphitheatre on Thursday 7th October 2021, to dish out some honky-tonk, mainstream country-rock music. Their Reboot 2021 tour is the much-awaited reunion of sorts since they went their separate ways in 2011. Long-time, loyal fans, as well as a hybrid of country audiences are hyped to see Brooks And Dunn live on stage performing their greatest hits like "My Maria," "Lost and Found," "Red Dirt Road," "Ain't Nothing 'Bout You," "Neon Moon," "Only in America," "Rock My World (Little Country Girl)," "You Can't Take the Honky-Tonk Outta The Girl" and "Boot Scootin' Boogie." Save the date and find the best seats. Book your tickets now!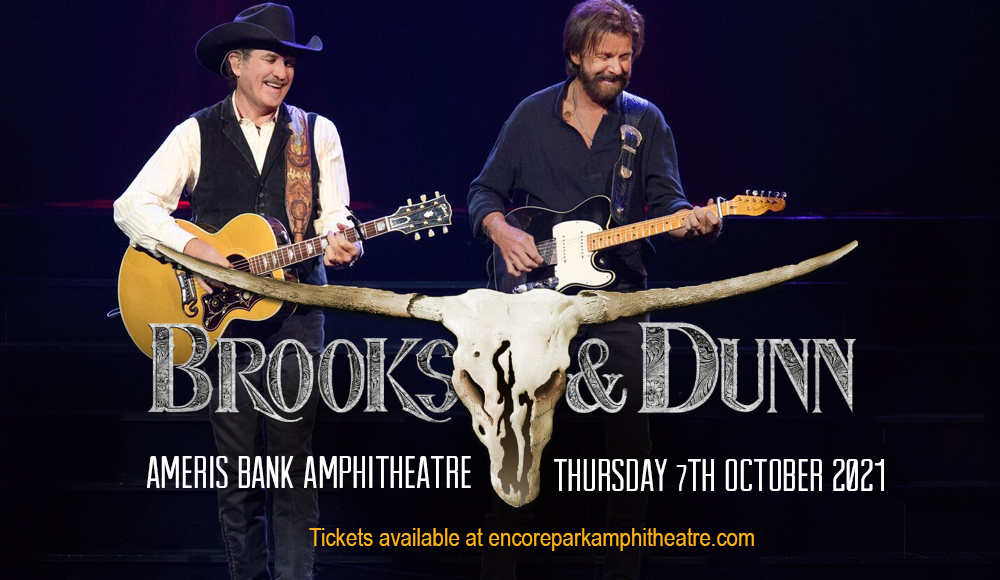 An essential part of Nashville's rich roster of country greats includes the singer-songwriter duo, Brooks And Dunn. Prior to getting together in 1990, Kix Brooks and Ronnie Dunn had their own hits to their name. Yet, the partnership ignited a dynamic combination as they exploded with their debut single "Brand New Man", which hit no.1 on the Hot Country Songs in June 1991.
Brooks and Dunn have recorded 11 studio albums and five compilation albums which have spawned 50 singles, of which 20 went to number one on the Hot Country Songs charts and 19 more reached top 10. Most of their studio albums are certified platinum or higher sellers. Their certified highest selling record is their 1991 debut album, Brand New Man, awarded sextuple-platinum for shipping six million copies.
Brooks and Dunn were regular fixtures in the Country Music Association Awards, taking home the Vocal Duo of the Year award every year between 1992 and 2006, except for 2000. They also stood the Grammy stage, snagging two Grammy Awards for Best Country Performance by a Duo or Group with Vocal: "Hard Workin' Man" in 1994 and "My Maria" in 1996.
Steve Huey of Allmusic likens their voices to the yin and the yang, saying that Dunn "was the quietly intense singer with the soulful voice, while Kix Brooks played the part of the high-energy showman". Their contrasting styles and personalities further strengthen their harmony and rapport onstage.
Revel in these catchy country-dancehall tunes courtesy of Brooks and Dunn. Book your tickets now!