Ameris Bank Amphitheatre | Alpharetta, Georgia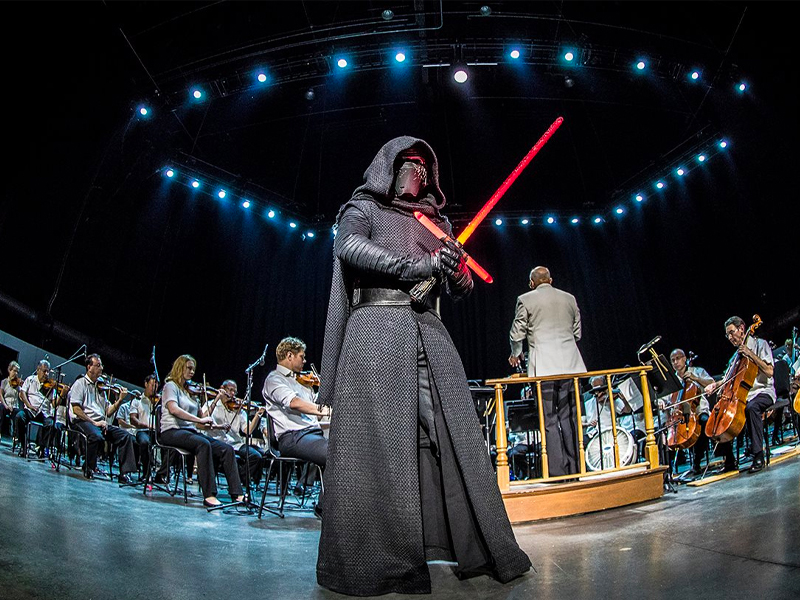 The Force is strong with everyone in Georgia! Back by popular demand, the Atlanta Symphony Orchestra returns with Star Wars and More at the Ameris Bank Amphitheatre on May 19th. Led by guest conductor Stuart Chafetz, this family-friendly symphonic concert will deliver memorable film compositions, including selections from the legendary Star Wars, the magical world of Harry Potter, the thrilling Jurassic Park, the daring adventures of Indiana Jones, and many more iconic movies! And that's not all! In accordance with tradition, do not be surprised to see costumed characters and cosplayers strolling about before the live music begins. So, arrive early in your best fantasy-themed attire and you'll be able to catch other fun activities like exclusive photo opportunities and professional face painting. With a spacious outdoor setting, the Alpharetta venue features well-manicured landscaping, creating a warm and inviting atmosphere that appeals to guests of all ages! Your tickets are waiting for you in a galaxy far far away – secure your seats now, you must!
The Atlanta Symphony Orchestra (ASO) announced the return of the hit cinematic program Star Wars and More arriving at the Ameris Bank Amphitheatre on Sunday, May 19th. This concert promises a series of cherished film scores, including those from the epic realms of Star Wars,  Harry Potter, Jaws, Indiana Jones, and more - all brought to life through dynamic live performances.
With a grand total of 27 Grammy Awards to its name, the Atlanta Symphony Orchestra stands as a highly regarded institution, also acknowledged with an ASCAP award for their unwavering dedication to New American Music.
Furthermore, the musical ensemble has unveiled its concert plans for the '22-'23 season, and even before the official start of her tenure as the new music director, French conductor Nathalie Stutzmann is already leaving a significant mark. Only recently, she engaged in a conversation with Georgia Public Broadcasting, discussing her vision and aspirations for the ASO.
"What really touched me is, it's a very good orchestra, but it's more than this. It's an orchestra that is willing and starving to go deep into the musical work. I felt we were in the same direction with our ambition of developing this expressivity of the orchestra, and that's why I'm here," she shares.
Tracks from the Star Wars Universe will dominate the event's playlist which the ASO is already acquainted with considering their history of being under the esteemed direction of composer John Williams on multiple occasions. Revisit pieces like the original "Battle of the Heroes," "Duel of the Fates," "Across the Stars," and the iconic "The Imperial March" that accompanies Darth Vader and his reign.
"The Atlanta Symphony Orchestra spun out these melodies with energy and beauty as layer upon layer of instrumentation was added. The outcome was a beautifully executed musical product with popular appeal and an observably appreciative audience," Arts Atlanta shares in a review.
The Ameris Bank Amphitheatre has a modern architectural design, featuring a blend of sleek metal and glass elements throughout its structure. For an event that showcases fantasy-themed scores, this venue is definitely the place to be to experience the concert at its finest! Don't let the Force be with the sold-out crowd; score those well-deserved tickets today!