Ameris Bank Amphitheatre at Encore Park | Alpharetta, Georgia
It's time to be "Way Less Sad," AJR, OK Orchestra Tour comes to Ameris Bank Amphitheatre on Friday, May 6th, 2022. "The Trick" my "Ordinaryish People" is to start your summer of 22 with a "Bang," because "Adventure is Out There," so come on and buy some tickets, be "Way Less Sad," stop being a "Bummerlad," and nobody cares about your friend "Joe," playing "The World's Smallest Violin," and acting all "Humpty Dumpty." We'll pretend it's "Christmas in June," and do all those "3 O'Clock Things," that make us happy, like "My Play," and "OK Overture!"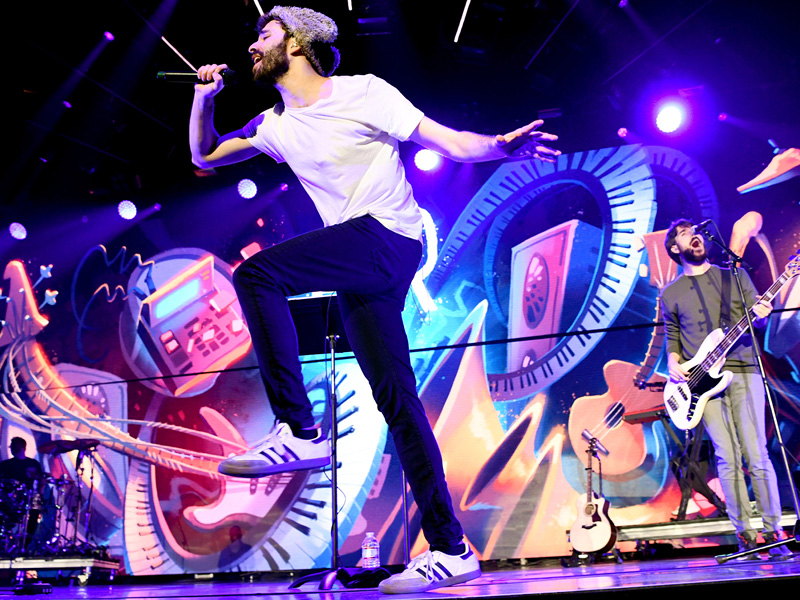 The brand-new album from AJR, OK Orchestra, is their fourth album, it was released in March 2021, debuting at number 1 on the Billboard Alternative chart and Rock chart and number 10 on the Billboard 200 chart. The album features AJR's sixth Platinum single to date, "Bang!," which peaked at number 8 on the Hot 100, becoming the band's first top 40 entry, and first top 10 entry ever, it also earned the band their first-ever Billboard Music Award for Top Rock Song. The second single off the album, Way Less Sad" peaked at number 4 on the Rock Airplay and number 5 on the Hot Rock and Alternative Songs charts. The group has described the new album as the most sonically experimental and emotionally raw album they've ever made.
"In times like these, you realize what values are important. There are a lot of things you can live without, but you can't live without family. We really tried to create a world on this album. With each record, our fan base has grown steadily. Their support made us more confident to invite them into this space. We really embraced who we are, and it's the most diverse album we've ever made. It's got some of our happiest and most jovial songs. It's got some of our saddest and angriest songs. We're expanding what we do. It's exciting," said Ryan.
The tree brothers, Adam, Jack and Ryan play a multifarious collection of instruments from, guitars, bass guitars and ukuleles to drums, melodica and keyboards, with synthesizers, samplers and trumpets! AJR's last full-length album, Neotheater, debuted on top of the Billboard charts at Number One Alternative and Rock Albums charts, and Top 10 on the Billboard 200 and featured the Platinum-certified single '100 Bad Days'.